Ironhead Studio is an effects firm specializing in costume and creature design. And that's where the resemblance to most other effects firms ends. We're committed to delivering a higher standard in both design and function. So you'll be proud to do that close-up.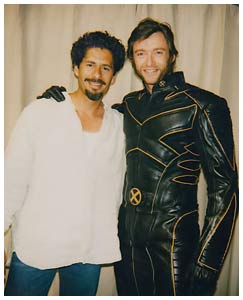 About Jose Fernandez
Jose Fernandez began his career in film in 1989 as a sculptor for the legendary Rick Baker on the motion picture "Gremlins." Since that time he has been instrumental in creating some of the most memorable superhero/fantasy characters of the last two decades.
Throughout the 1990′s Jose developed his craft and built a respected reputation as a lead sculptor on such films as "Godzilla", "Men in Black", "Alien III", and "Bicentennial Man" as well as through numerous collaborations with industry titans such as Colleen Atwood and Tim Burton on "Batman Returns", "Planet of the Apes", and "Sleepy Hollow". Jose again returned to the Batman franchise to oversee the specialty costumes for "Batman and Robin" and "Batman Forever" for Joel Schumacher, setting new standards for what a superhero costume could be.
Jose's reputation for subtlety and a classic aesthetic have continued to put him in demand in more recent years, and can be most readily seen in characters such as the Silver Surfer and "Hellboy's" Abe Sapien as well as the designs and construction of the specialty costumes for "X-Men United" and 'Fantastic Four." The latter providing him with his first official credit as costume designer.
In December of 2007, Jose finally made the decision to open his own shop, Ironhead Studio. Ironhead is more than just another effects shop, it's an artistic and personal extension of it's founder, committed to the same excellence and unique vision that has been Jose's personal hallmark for years.
"Throughout my career I have been offered the opportunity to work with, and learn from, some of the greatest talent that my industry has to offer. It's those experiences in collaboration that I find rewarding. I genuinely look forward to continue working with this generations great filmmakers. It is my desire that Ironhead will be instrumental in pushing this medium forward into its exciting future."